In 1980, my friend Mr. Average lamented his Social Security pension would be small. He wished the government would take more out of his pay to increase his expected pension. This would be difficult as Social Security was having financial problems soon to be solved by a bipartisan commission chaired by a man named Greenspan. It recommended, Congress passed, and the President signed a social security tax increase, an increase in the wages subject to Social Security, and a delay in the normal retirement age. My friends normal retirement age increased from 65 to sixty-six. What have these changes accomplished over the past 25 years.

2013 Trustees Report measure short-range adequacy of OASI, DI, and HI Trust Funds by comparing fund asset reserves to projected costs for the ensuing year (the "trust fund ratio"). A trust fund ratio of 100 percent or more—that is, asset reserves at least equal to projected cost for the next year—is a good indicator of a fund's short-range adequacy. That level of projected reserves for any year suggests that even if cost exceeds income, the trust fund reserves, combined with annual tax revenues, would be sufficient to pay full benefits for several years.
By this measure, the OASI Trust Fund is financially adequate throughout the 2013-22 period, but the DI Trust Fund fails the short- range test because its trust fund ratio was 85 percent at the beginning of 2013, with projected depletion of all reserves in 2016.
The HI Trust Fund also does not meet the short-range test of financial adequacy; its trust fund ratio was 81 percent at the beginning of 2013 based on the year's anticipated expenditures, and the projected ratio does not rise to 100 percent within five years. Projected HI Trust Fund asset reserves become
fully depleted in 2026. Chart E shows the trust fund ratios through 2040 under the intermediate
assumptions." The 2013 report explores cost relative to GDP, the value of what we
produce. Editors Note: What do you spend money on that is more important than retirement and health care? Current consumption, highway accidents, mental health of children, education, military safety, death and carnage from terrorism, death and carnage from lighting strikes?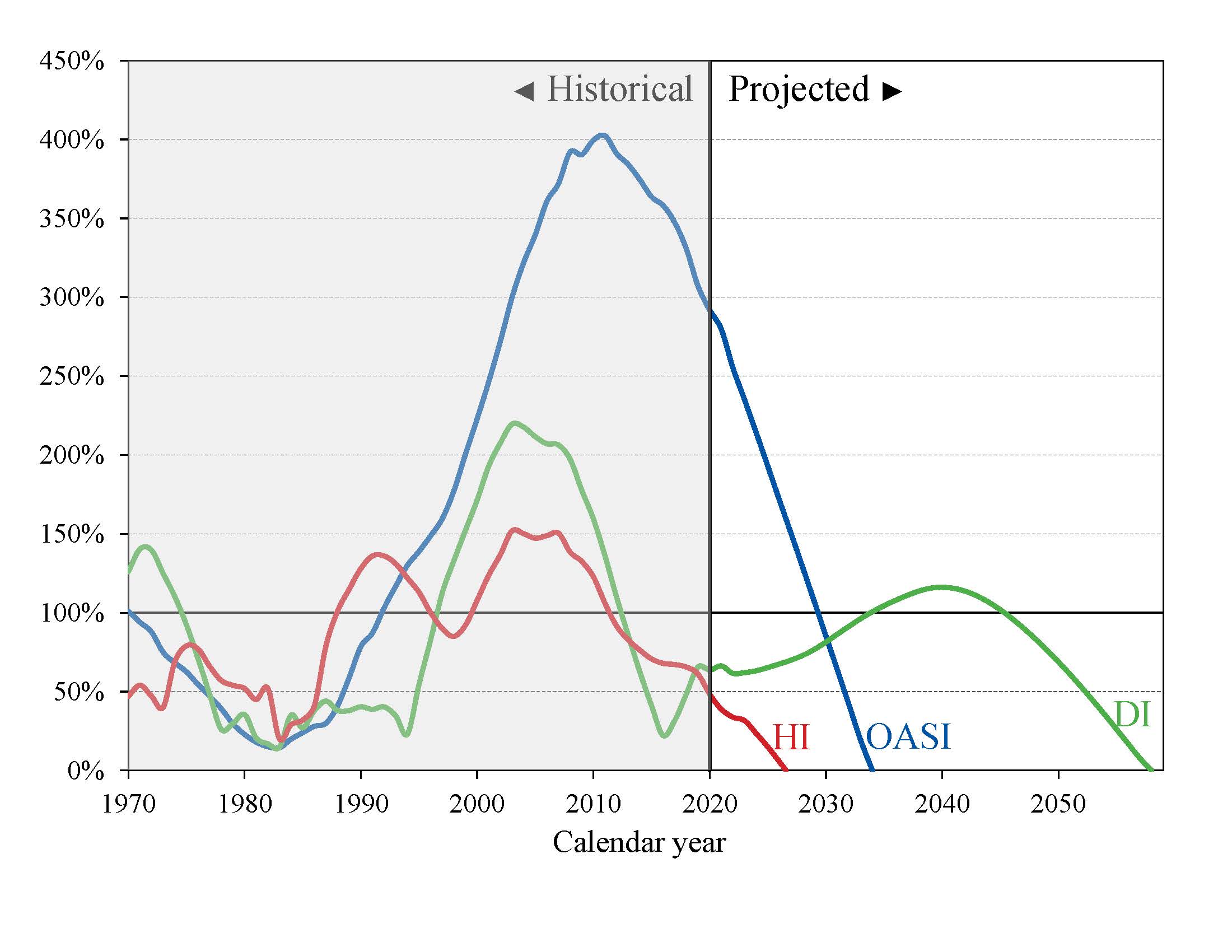 What to do! Options include increasing the wage base being taxed, the tax rate, and delaying the maximum benefit date. All were done in 1981. Ignoring the problem and borrowing the cash will be difficult as borrowing much more than we already have will push interest rates higher on Treasuries and lower the value of the dollar. So they will increase from $90,000 base soon because it is politically easier although Republicans won't be happy. Then a bipartisan commission will be formed to increase rates, wages subject to Social Security taxes, and the normal retirement age. A commission shares the political burden.
All have been done before. What bothers me is a new option.
Indexing Social Security to wages has caused Social Security pensions to increase. Wages go up because of inflation and productivity. A plan indexing pensions to inflation lowers pensions and a Presidential/Congressional cash crisis is avoided for a while. The Center for Retirement Research at Boston College analyzed this change. My friend Mr. Average just retired at 65 and receives $14,689. Had we indexed to inflation in 1951, the average Social Security pension would be lowered by $2,131 to $12,558. To be candid, my friend Mr. Average needs this additional income. Let us move ahead to 2025. Under the current system, Mr. Average will receive $16,205 in 2005 dollars, a $1,516 increase. If indexing to inflation passes Congress and is approved by the President, Mr. Average will receive only $14,689 in 2005 dollars. No real increase because he would not share in productivity increases. His pension would be larger in 2025 because it was but he could only buy the same amount of goods and services as in 2005.